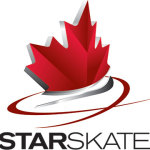 Intermediate
The Intermediate program is the next step for our STARskaters who are ready to move on from the Junior level. Generally speaking, a skater who is ready to move on to Intermediate must be working on Skate Canada levels STAR 2 and STAR 3. However, this is a guideline and as with all decisions regarding a skater's program, consultation with their private coach is the key to ensuring a skater will be prepared for the differences in the Intermediate program, which include:
* The session moves at a faster pace – It is imperative that all skaters on the session are keeping up to that pace so that the session flows. This, combined with skaters having an understanding of the 'right of way' and courtesy on the ice, are important keys to safety for all skaters on the session.
* There are no group lessons – At this level training for each skater becomes individualized. This means that all of their coaching will happen through private coaches. Skaters will continue to work with their freeskate coach and will likely also start to work with a dance coach as well. As a skater progresses, they will need to work with other coaches (for example, when they are ready to begin working on their Preliminary Skills (for a refresher of the different parts of the STARskate tests, see the link below). Your base coach will advise you when it is time to begin working on particular areas and assist with arranging coaching.
* Intermediate skaters skate 3 times per week for longer sessions - Since skaters will only be receiving privagte lessons, for a substantial portion of each session they will need to be able to work on their own. While coaches will always be giving skaters suggestions about what to work on when they're on their own, it is important that the Intermediate skater has the ability to monitor their time on the ice and focus their training on their own.
Contact us for a refresher of the different parts of the STARskate test system.