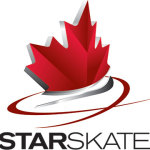 Pre- Junior
Welcome to Pre-Junior! This program is for skaters that have completed CanSkate level 4 and would like to go into a more defined Figure Skating program. Skaters will continue with the Canskate levels until reaching the Skate Canada STAR level 1, where they can move forward into our Junior program.
Sessions will continue to be taught in groups (45 min), with the option to have private lessons, and will focus on the fundamentals of Figure Skating in a creative and fun atmosphere.
This is an ideal step for skaters that wish to continue into recreational and competitive figure skating.
NEW THIS YEAR!!
For our Pre-Junior and Junior skaters, we have added an off-ice Jump class for all skaters registered. Off Ice Jump Class provides an excellent opportunity to work on figure skating jump technique that skaters learn on the ice. Please meet our coach at Dressing Room D door, near Zamboni door on the First day (see schedule below)
If your skater is a Hockey/Ringette player and have registered for the Junior program to enhance your skating skills, this off-ice class is geared to figure skating jumping technique, however your skater is welcome to join, as this off-ice class will benefit your skaters Balance and Control and coordination on the ice.
Monday
On-Ice 4:00-5:15
Off-Ice 5:25-5:55 (meet coach by Zamboni Door)
Wednesday
Off-Ice 4:55-5:25 (meet coach by Zamboni Door)
On-Ice 5:35-6:50
If you are interested in private lessons please view this our coaching team page, to see our coaching team that is available for private lessons. Once you decide on a coach you will contact them directly to arrange lessons.
Please refer to your program schedule for any information you may need through the season.
If you have any questions please email azuredeeperkins@gmail.com for more information.